The Best Time of Year to Visit Key West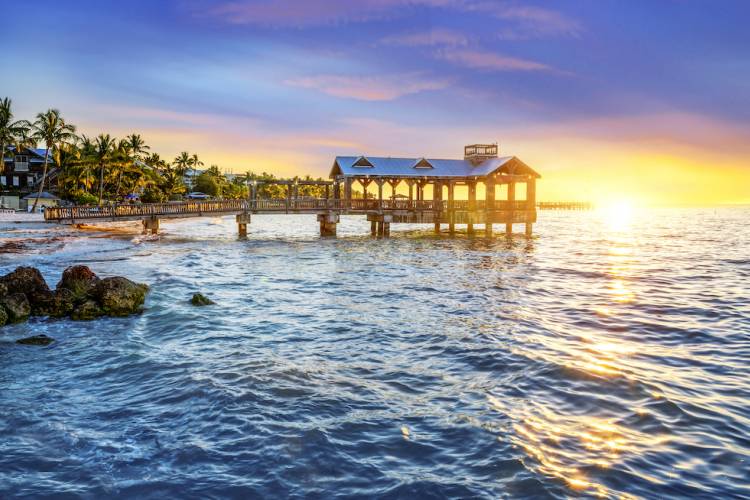 Key West, with its vibrant island atmosphere, stunning beaches, and lively culture, is a dream destination year-round. However, each season brings its own unique charm and experiences. From warmer months to more comfortable temperatures, there is a wide range of typical conditions to pick from or you can plan around the festivities and activities that go on throughout the year.
In this blog, we'll take you on a journey through the seasons in Key West, exploring the weather, climate, and exciting events that make each time of year special. Start dreaming about beautiful days in the sun and fun of Key West and book your boutique accommodations today!
Spring in Key West
As winter bids farewell and the island awakens, spring emerges as a delightful time to visit Key West. From March to May, temperatures start to rise, ranging from the mid-70s to mid-80s Fahrenheit, creating perfect beach weather. The gentle sea breeze keeps you cool as you explore the island's enchanting streets and vibrant neighborhoods.
Spring in Key West is also a season of celebration. In late March, you can experience the Conch Republic Independence Celebration—a week-long festival commemorating the island's secession from the United States (in jest, of course!). The festival features lively parades, concerts, and water-related events that embrace the spirit of Key West's eccentricity.
Summer in Key West
If you crave the true essence of a tropical paradise, summer in Key West will not disappoint. From June to August, the temperatures climb, with highs reaching the mid-90s. The trade winds offer relief, and the inviting waters of the Atlantic Ocean provide the perfect oasis for swimming, snorkeling, and water sports.
Key West summer nights are magical, with balmy temperatures and a lively atmosphere. Take a leisurely stroll along Duval Street, where you'll find vibrant bars, live music, and delicious seafood restaurants. Don't forget to indulge in Key West's famous Key lime pie, a refreshing treat that perfectly complements the summer vibes.
Another highlight of summer in Key West is the annual Pride Week in June, a celebration of diversity, love, and acceptance. The island comes alive with rainbow flags, drag shows, parties, and a dazzling parade that fills the streets with joyous energy. It's an incredible time to embrace Key West's inclusive spirit and join in the festivities.
One summer event not to be missed is the Annual Key Lime Festival, typically held in July. Celebrating the iconic Key lime, this festival features mouthwatering culinary creations, pie-eating contests, cooking demonstrations, and even a Key lime martini-sipping challenge. It's a sweet and tangy celebration of Key West's culinary heritage.
Fall in Key West
As the summer heat gives way to a gentle coolness, the fall in Key West paints the island in a serene and laid-back ambiance. From September to November, temperatures range from the low 70s to the low 80s, making it an ideal time to explore the outdoors without the peak tourist crowds.
Fall is a season of cultural richness in Key West. The annual Fantasy Fest, held in late October, is a world-renowned extravaganza that embraces creativity, imagination, and flamboyance. Join the colorful parade, witness jaw-dropping costumes, and immerse yourself in the vibrant energy that takes over the island during this week-long celebration.
Besides the festivities, fall is a fantastic time for water activities such as snorkeling and diving. The waters are warm and visibility is excellent, providing an opportunity to explore the breathtaking coral reefs teeming with marine life. So don your snorkel mask, dive into the crystal-clear waters, and discover a world beneath the surface.
Winter in Key West
As winter arrives, Key West remains a sunny and inviting paradise. From December to February, temperatures hover between the mid-60s to low 70s, offering a pleasant escape from colder climates. It's the perfect time to soak up the sun, explore the island's natural beauty, and indulge in outdoor adventures.
One of the most significant winter events in Key West is the annual Key West Food and Wine Festival, held in January. This gastronomic extravaganza showcases the finest culinary talents, wine tastings, cooking demonstrations, and themed parties. Delight your taste buds and savor the flavors of Key West on this culinary journey.
Winter in Key West is also a fantastic time for wildlife enthusiasts. Take a boat trip to the nearby Dry Tortugas National Park and witness the migration of thousands of birds, including frigatebirds and sooty terns. The park's pristine beaches and crystal-clear waters provide a serene backdrop for birdwatching, snorkeling, and exploring the historic Fort Jefferson.
Pick Your Favorite Season and Book Your Key West Vacation Rental Today!
Pick your season of choice, pack your bags, and get ready to create lifelong memories in Key West. Book your vacation rental with Dwell Key West and let our exceptional accommodations be your home away from home as you embark on a journey filled with sunshine, warmth, and the enchanting spirit of this tropical paradise. Your Key West adventure awaits, book today!